The second vegan-friendly restaurant in Lisbon is Restaurant ODAAN, and it's the first one where I didn't know it was vegan. "I didn't know it was Vegan" is a series of non-vegan restaurants in Lisbon where you can find vegan options. As we know that we can't always convince everyone to dine at one of the amazing vegan restaurants in Lisbon (we have a full list on our website, here is the direct link), we decided to put together the best vegan-friendly options in non-vegan restaurants in the city.
With this new series, we will introduce you to some of the Portuguese hidden gems where you can find vegan surprises. "I didn't know it was Vegan" is a series of articles and videos. The goal of this series is to show people that you can find vegan options in many different restaurants and to facilitate the lives of vegans with non-vegan friends always looking for a place to go eat. In the first episode, we feature the Indian Nepalese restaurant "ODAAN." Keep on reading to find all the secret vegan dishes of Lisbon's restaurants.

Vegan Friendly restaurant in Lisbon : The first episode is about ODAAN.
ODAAN is a small Himalayan Cuisine restaurant not far from Martim Moniz, which hides amazing vegan dishes ready to discover.

how to get there ?
Odaan is a Indian and nepalese restaurant. It is hidden in a little square in rua dos Cavaleiros 17, 1100-295 Lisboa. You can reach it from the metro station of Martim Moniz or with the iconic tram 28. We took off with the metro with the green line in the metro station of Martim Moniz. Then walk less than one minute from the metro exit.

About the restaurant:
It opens every day from 11:00 h to 23:00 h, so it's the perfect spot for lunch or dinner. It's available for dine-in, takeaways, and drinks. It's also available to get a table on the terrace outside, which is a great addition to the restaurant mainly because Lisbon weather is usually super nice. And it's a great opportunity to enjoy food, drinks, and weather at the same time.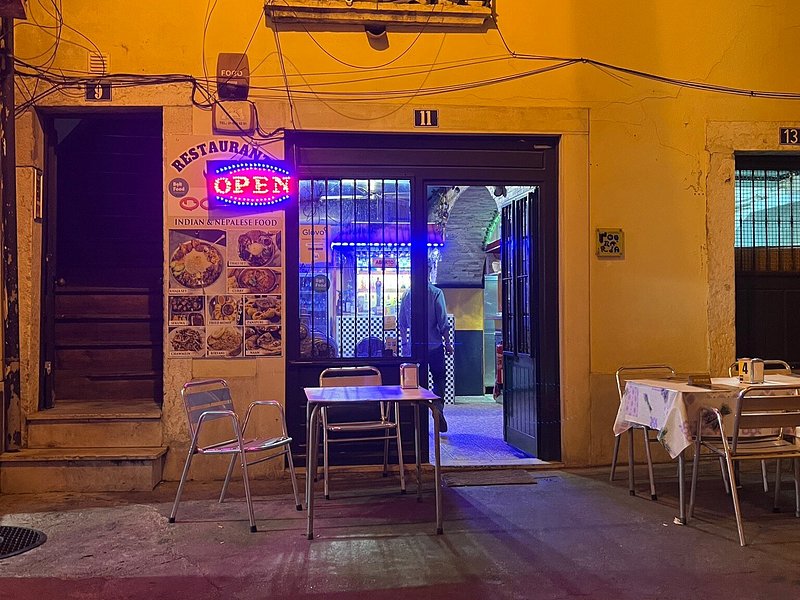 What to do around:
ODAAN is a great spot to eat with a low budget if you're visiting the multicultural Bairro of Martim Moniz and Santa Maria Maior. But if you want to visit some places in the neighborhood just around the corner from the restaurant, you'll find Avenida Almirante Reis, one of the biggest avenues of Lisbon. This street is full of Indian, Nepalese, and Chinese shops where you can find all you need for your vegan recipes.
So if you dare to climb up, we recommend getting to Jardim da Graça with a park, a spectacular view, green grass, and cute dogs. If you're trained, you can walk a bit more up to Miradouro da Graça, which is a viewpoint just above the garden. You can cheat by taking the open-air escalator, but don't tell anyone. To promote the mobility of pedestrians (not only tourists but also the locals), the city of Lisbon installed an escalator in the autumn of 2018. This escalator comfortably takes you to the Mouraria district: Escadinhas da Saúde.
The Food:


You can find a wide option of curry, momos, naan, roti, and dishes and they have also a full vegan section. Our choice was Panpuri which you find in the starter section. Panipuri is an immensely popular Indian street food of crispy, hollow, fried dough balls (puri) stuffed with boiled potatoes or steamed moong sprouts or boiled chickpeas or white peas curry (also known as ragda) together with spicy tangy water and a sweet chutney. Afterwards, we ordered of vegan chicken masala and curry mixed vegetables served with rice. The service was quite fast and we highly recommend if you are craving for an authentic Himalayan food.
I didn't know it was Vegan the serie
We highly recommend to try Odaan with your non vegan friend and nobody will complain. Do you have any Vegan Friendly restaurants in Lisbon to suggest us ? Please send us a message at veganjunkiesclub or at lisbonveganjunkies, or leave a message below. Here you can find all the articles about I didn't know it was vegan. Stay tuned for more. Let us know what do you think about this vegan friendly restaurant and their vegan curry.

If you like to cook we have a section just for it: our series Vegan Junkies Recipes
As usual, you can contact us us by tagging or messaging @veganjunkiesclub or with the #veganjunkiesrecipes. Or leave a comment below. If you are interested in more recipes check our apposite section.