The First Vegan Friendly restaurant in Lisbon is Casa da India and it's the first episode of I didn't know it was Vegan.
I didn't know it was Vegan is a series of non vegan restaurant in Lisbon were you can find vegan options.
As we know well that we can't always convince everyone to dine at one of the amazing vegan restaurants in Lisbon (we have a full list in our website, here is the direct link ), we decided to put together the best vegan friendly options in non vegan restaurants in the city

With this new series will introduce you some of the Portuguese hidden gems where you can find vegan surprises. IDK it was Vegan is a series of article and videos. The goal of this series is showing people that you can find vegan options in many different restaurants. And to facilitate the life of vegans with non vegan friends always looking for place to go eat.
In the first episode, the traditional "Casa da India" ant its veggie curry. Keep on reading to find all the secret vegan dishes of Lisbon's restaurant.

Vegan Friendly restaurant in Lisbon : The first episode is about Casa Da India.

The name of the restaurant probably come from The Casa da Índia (Portuguese pronunciation: [ˈkazɐ ðɐ ˈĩdiɐ]; English: India House or House of India) was a Portuguese state-run commercial organization during the Age of Discovery. It regulated international tradeand the Portuguese Empire's territories, colonies, and factories across Asia and Africa

how to get there ?
Casa da India is a Portuguese, Mediterranean restaurant. It is located between Bairro Alto and Chiado in rua Rua do Loreto 49, Lisboa 1200-241 Portugal. You can reach it from the metro station of Baixa Chiado or with the iconic tram 28. We took off with the metro with the blue line in the metro station of Baixa-Chiado went out for the side of Largo do Chiado and took the endless escalator. One curiosity about this metro station is was designed by the Pritzker architect Álvaro Siza Vieira and opened on August 8, 1998.

About the restaurant:
It Opens everyday from 08:00 h to 02:00 h. So It's the perfect spot for lunch, dinner and a late night snacks with some drinks. It is Always super busy at any hour of the day is well know between locals and a must do for tourist. Indeed it's a Portuguese tasca, with small table quite close to each other, small wooden tables and the walls cover by tiles. These tiles, are one of the symbol of Portugal and they are called azulejos.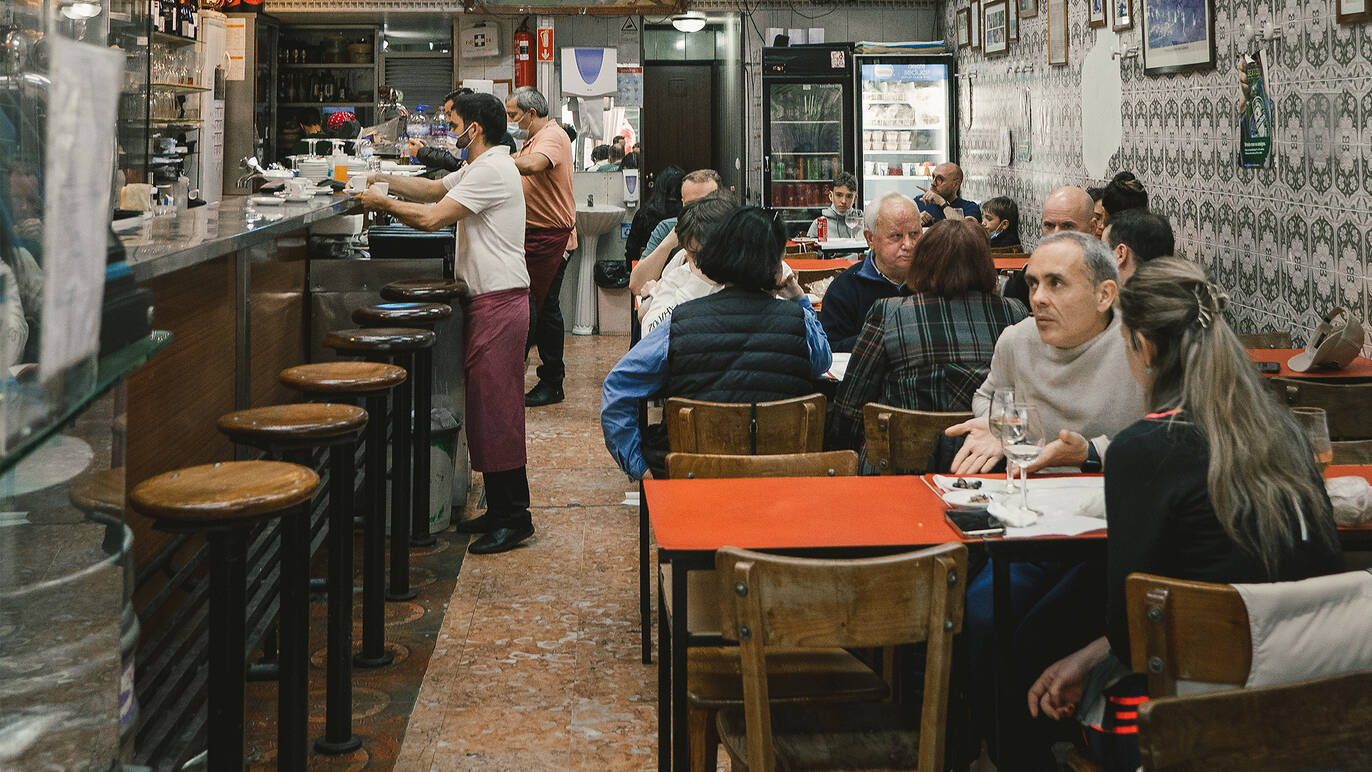 Casa da India is a great spot to eat with a low budget if you're visiting the city center, mainly the neighbourhood of Bairro Alto, Baixa and Chiado. But If you want to visit some place in the neighbourhood just around the corner from the restaurant you'll find Praça Luís de Camões and 10 min walking form there you can reach the beautiful view point Miradouro de São Pedro de Alcântara. You can also wall to the party neighbourhood of Bairro Alto, which have between its little streets more than 200 bars. But remember the party starts after 22.00 so have dinner first.
The Food:


You can find all type of food from churrasco, fish to our vegan friendly star: the Carril de Vegetais. So we wanted to show you the delicious vegetable dishes they have on menu. Therefore we ordered the curry with vegetables and it came served with rice. In the curry there is green beens, broccoli, carrots. In conclusion, the food incredibly tasty and Another point in favour is the incredibly cheap price.
Our final vote is 7 out of 10.
I didn't know it was Vegan the serie
We highly recommend to try Casa da India with your non vegan friend and nobody will complain. Do you have any Vegan Friendly restaurant in Lisbon to suggest us ? Please send us a message at veganjunkiesclub or at lisbonveganjunkies, or leave a message below. Here you can find all the articles about I didn't know it was vegan. Stay tuned for more. Let us know what do you think about this vegan friendly restaurant and their vegan curry.


If you like to cook we have a section just for it: our series Vegan Junkies Recipes
As usual, you can contact us us by tagging or messaging @veganjunkiesclub or with the #veganjunkiesrecipes. Or leave a comment below. If you are interested in more recipes check our apposite section.